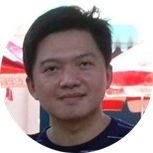 Taiwan Tech (NTUST), Taiwan
About: Jenq-Shiou Leu received his B.S. in mathematics and his M.S. in computer science and information engineering from National Taiwan University, Taipei, Taiwan, in 1991 and 1993, respectively, and his Ph.D. on a part-time basis in computer science from National Tsing Hua University, HsingChu, Taiwan, in 2006. He was with Rising Star Technology, Taiwan, as an R&D Engineer from 1995 to 1997, and worked in the telecommunication industry (Mobital Communications and Taiwan Mobile) from 1997 to 2007 as an Assistant Manager. In February 2007, he joined the Department of Electronic and Computer Engineering at National Taiwan University of Science and Technology as an Assistant Professor. From February 2011 to January 2014, he was an Associate Professor. Since February 2014, he is a Professor and Vice Chairperson. Prof. Leu's research interests include: Heterogeneous Network Integration, Mobile Service and Platform Design, Distributed Computing (P2P, Cloud Computing), Green and Orange Technology Integration. He has published extensively in these areas, with 55 SCI indexed journal papers and 57 conference papers or book chapters. He is a senior member of IEEE.
Title: Energy Efficient Streaming for Smartphone by Video Adaptation and Backlight Control
Abstract: Smartphone becomes an indispensable gadget in our daily life. Prolonging battery life on smartphone can extend the usability of the phone without being recharged, especially for accessing streaming video, which is a paramount service in the mobile Internet era. Many researchers have proposed energy efficient streaming methods, including bandwidth control and packet scheduling. Such studies have focused on reducing the energy consumption of central processing units (CPUs) and wireless networks; however, screens may drain substantial energy on smartphone. In this study, an energy efficient streaming sys- tem is proposed, combining adaptive coding and a backlight control mechanism. A non-parametric signal prediction is used to predict the network condition and then some adaptive encoding parameters are subsequently adjusted to fit the network capability. A histogram equalization is applied to compensate for the loss of image contrast after reducing the backlight. To validate the proposed concept, some experiments were conducted and the corresponding results show that the proposed streaming system can effectively reduce energy consumption on smartphone, while accessing the video streaming service.